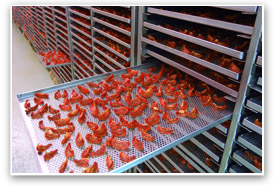 The Sundown story began in 1995 where a delicatessen proprietor with a great passion for food in Australia's Famous Victoria Market inadvertently stumbled on a new product that became known as a Semi Dried or oven roasted tomato. This new product was born from an attempt to produce a typical Sun dried tomato but inadequate drying gave the product a new distinct taste and texture like no other tomato product before. It wasn't long before Australia embraced this product and it now consumes the most tonnage per capita in the world.
His passion for the product drove him to new developments on driers, equipment and tomato varieties suitable for this new industry. Today Sundown Foods remains the largest exporter of Semi Dried Tomatoes in the Southern Hemisphere.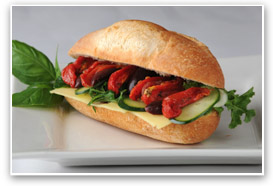 In 2006, the ever growing demand for semi dried tomatoes and the importance of securing good raw materials made it necessary for Sundown Foods to move its operation to central Victoria's tomato growing region. There was built a state of the art temperature controlled facility situated just metres from the tomato fields. This backward integration has given Sundown Foods more control of the raw materials from seed to harvest, grading and calibration of tomatoes ensuring quality is controlled from start to finish.
Find out why our product is preferred world wide.